We're Getting Mutants in the MCU - The Loop
Play Sound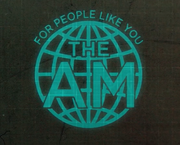 The AM is a secret organization that studies, experiments on, and assists atypicals. They strive to help atypicals integrate into normal society while also learning how to control and use the abilities for themselves. The AM's headquarters are in D.C., but little else is known about them. Under the influence of Director Wadsworth, Boston's division of The AM (Division 4) conducted extreme experiments on individuals with seemingly dangerous abilities including Camille, a mental time-traveler, and Mark, someone who can use the abilities of atypicals around him. During the events of The Bright Sessions, The AM was the major antagonist in the series.
The AM becomes the focal organization of the first spin-off series, The AM Archives, where a few characters from The Bright Sessions attempt to reform it.
History
[
]
The AM claims to be a secret arm of the US Intelligence Community, though, according to Agent Green in episode 55 of The Bright Sessions, The AM has no actual connection to the federal government. It is also revealed in episode 55 that The AM was actually founded by an organization called The Order.
The AM (or at least Division 4) seems to have been being mishandled for many years, with Wadsworth and Rostova, two notably cruel figures, being the last directors before the reform and with Tiers 4 and 5 appearing mostly towards AM employees as an established and accepted thing. Lee Sandoval says in The AM Archives episode 2 that "the Order's presence has gone unfelt for too long", in reference to the fact that The Order (an organization that genuinely cares about atypicals) has had little contact with or influence over The AM for many years. In The Bright Sessions episode 55 Agent Green remarks on how the AM used to have a position in each division for communicating with other agencies that he believed may be an oversight for The Order as the position had remained unfilled in Division 4 for the majority of Wadsworth's time as director. Whether or not this is accurate is unknown, though it is unlikely given that there would have been unethical experiments taking place at the Boston division long before Wadsworth took over.
Tier 5 of Division 4 was cleared out in 2017, during the reform that began after newly appointed Director Green brought in co-directors Joan Bright and Sam Barnes in effort to systematically change The AM.
Operations & Practices
[
]
Codenames
[
]
Codenames are given to all AM agents during their training, both for their personal protection and as an easy indicator of who trained together and under whom. These codenames are chosen by a given training group's leader and can have seemingly any theme. The only know themes for characters' codenames are the Clue franchise (Wadsworth, Green, Plum) chosen by an unknown training head in 2003 and Jane Austen characters (Crawford, Bennet, Darcy) chosen by a training head called Asher in 2017.
Tier System
[
]
Class Designation System
[
]
Affiliates
[
]
Annabelle "Ellie" Whitney was assigned the code name Wadsworth in AM training, the theme of her training group's code names was Clue. She began training in 2003 and began work at the AM's Boston division (Division 4) in 2004. She served as director of Division 4 from 2010 to 2017, one of the youngest directors in the division's history. While there she headed many experiments, notably in Tier 5 and on its prisoners, including an atypical immunity serum (made using the genetic material of Tier 5 subject Mark Bryant). She left her post as director to take a job as a deputy director at AM headquarters in DC, promoting Agent Green to director of Division 4.
(Please note this section contains major spoilers for The AM Archives.)
Owen Thompson was assigned the code name Green in AM training, the theme of his training group's code names was Clue. He began training in 2003 and began work at the AM's Boston division (Division 4) in 2004. He worked in administration for the majority of his time there until being appointed director by his predecessor Wadsworth in 2017. He recruited Sam Barnes and Joan Bright to work alongside him as co-directors and he ran the division alongside them, attempting to make changes to the harmful systems in place at the division, notably clearing out Tier 5, until his death in October of the same year.
(Please note this section contains major spoilers for The AM Archives.)
Dr. Joan Bryant was assigned the code name Bright in AM training, it is unknown the theme of her training group's code names. She began interning at the AM's Boston division as a graduate student in 2006, starting full time there as a psychologist after finishing grad school in 2007 and worked there while working towards her doctoral degree and for a while after.
She left the AM in 2013 after discovering the experiments going on in the Tier 5 basement level and that her brother, Mark, was being held captive there. Upon discovering him she attempted a jailbreak and was taken into AM custody. With the help of Agent Green she arranged a deal with Director Wadsworth that would allow her to work adjacent to the AM in an independent therapy practice for atypicals, provided she give them information on her patients.
She ran this practice until being asked by Agent Green, along with Sam Barnes, to join him in running and reforming the AM in 2017. Green died the same year and it is implied that Sam stepped away from a leadership role after his death, leaving Joan as the facility's sole director.
(Please note this section contains major spoilers for The AM Archives.)
Samantha Barnes was brought in, along with Joan Bright, to work as a co-director of the AM's Boston division (Division 4) by Owen Green as a part of his effort to reform the institution. She was the first atypical director of the facility as well as one of the youngest in its history. However, after the death of co-director Owen Green in The AM Archives, she expresses doubts about being in a leadership position. As of The College Tapes, Sam's involvement with the AM is unknown.
Rostova

[

]
Rostova was director of the AM's Boston division (Division 4) for an unknown amount of time. He was Wadsworth's predecessor to the job. He was director when Helen was brought to the AM and he treated patients as experimental subjects. He was also notably harsh and unfair towards his employees.
Jackson (real last name unknown) is an AM agent assigned the code name Crawford in AM training. The theme of his training group's code names was Jane Austen characters. He was hired by directors Green, Bright, and Barnes to work in patient relations at the Boston division (Division 4) during The AM Archives.
Jackson is an atypical with super speed and before working for the AM, he was a Tier 3 patient at the Atlanta division.
Mags Densmore
[
]
Mags (real last name unknown) was initially an AM patient (telekinetic) who later began working there and was assigned the codename Densmore in training. It is unknown what her codename is in reference to. After Owen, Joan, and Sam took over as directors, Mags was promoted to office manager.
Dr. Andrea Sharpe
[
]
Charlie Decker
[
]